Ease Up on the Toxins
Our modern society is obsessed with a clean home! Scroll through Instagram or Facebook and you will see all the people posting all the pictures of their perfectly clean homes. I know that this is nothing new; I grew up being forced to clean the walls with ammonia and the bathrooms with bleach.
What the research is telling us is that there needs to be a better way. Everything that we eat, drink, breath and put on our skin gets into our body. The liver is then responsible for dealing with it all.
Every time you clean the bathroom or the kitchen with a standard household cleaner, chances are, you are inhaling a big old bloom of toxic chemicals. It is time, friends. It is time to ditch the chemicals and switch to more natural products.
Getting the Toxins OUT
The top products to start weaning out of your home:
Air fresheners
Window cleaners with ammonia
Dishwasher tablets containing phosphates
Bleach
Antibacterial hand soaps [the Cleveland Clinic has an extensive list and explanation here ]
For Today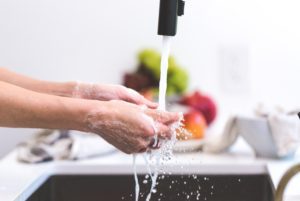 SO, where to start? I am a big DIY-er and love to make my own cleaning supplies! Pinterest is an excellent resource for ideas; I tinker/test out new recipes found there all the time. However, I realize that isn't the most time efficient way of handling the switch-out!
I also know that , in the beginning, it is hard to let go of products you have been using your whole life. So baby steps are needed. Pick ONE THING to replace. Then, when that product becomes a friendly and comfortable staple, choose to replace another.
A few of my favorite replacements:
1. Instead of Air Fresheners, use essential oils and a diffuser!
2. Natural Window Cleaner:
This one is my favorite to make! It is so so simple!
In a spray bottle, preferably glass, mix:
2 cups Distilled Water
2 Tablespoons White Vinegar
10 drops Lemon Essential Oil
3. My Natural Dishwasher detergent, I buy on Amazon, because I love convenience too!
MY favorite are  [amazon_link asins='B00649AZEM' template='ProductLink' store='theoiltroop-20′ marketplace='US' link_id='4d9d87bc-c440-11e7-9449-19ab59b3ebe6′]
4. Just say NO to bleach more often. You don't need an alternative, and if this is the hardest thing for you to imagine getting rid of, start with baby steps. I use OnGuard Cleaner Concentrate in almost every way I used to use bleach. Once and a great while, my husband will still bleach our white kitchen sink.
5. I have never ever found a hand soap that I LOVE more than doterra's foaming hand soap. In a pinch, I make my own foaming hand soap from unscented castle soap and essential oils.  [amazon_link asins='B00DAI76TC' template='ProductLink' store='theoiltroop-20′ marketplace='US' link_id='7b5d9bb2-c441-11e7-a496-13cbf80b5744′]