The one thing that I need in a company- is simplicity!
When I go to a website where there are a million combinations and a million options, I tend to get overwhelmed.
This happens to me when I go to purchase my makeup, I go to the site, addd everything that I want and the cart ends up being $600!
Luckily, I am able to calm myself down and whittle my list down to a few things I need and let some of the "wants" wait until the next sale or what have you- but the overwhelm is REAL.
THIS is one of the major reasons that I am so proud and excited to introduce LOYALTY REWARDS KITS!!!!!
The company has simplified the process EVEN MORE by grouping "frequently purchased together items" and offering them at an ADDITIONAL discount!
What this means for you, and why LRP :
1. Ordering on LRP already gives you 10-30% back in free points
2. When you order on LRP, you get 100% of your shipping costs back in free points
3. Ordering 125PV before the 15th of the month on LRP gives you the free product of the month
4. NOW, if you order a loyalty rewards kit- you get even more savings.
Let me introduce these kits!
The "we got you" kit is a "complete" kit to provide FOUNDATIONAL products that everyone needs to handle all the basics.
1. spa doterra bath bar- every body needs a good soap that is free of toxins and nourishing to the skin.
2. Lifelong Vitality Pack- vitamins, mineral, omegas, herbs and SO MUCH MORE! Support your body nutritionally and watch as your body systems align to your highest vitality.
3. Deep Blue Rub- this is an essential tool in handling those occasional aches and pains that come along with living an active lifestyle. This rub helps muscles, joints AND the respiratory & nervous systems! Whether you bumped, banged or twisted your body up and need relief, OR you want to treat your muscles pre-workout- this rub has you covered.
4. HD Clear- the premier face wash that is a rockstar for all skin types. From my hormonal 12 year old to her 40year old father- this wash keeps the face clear and looking good.
5. Essential essential oils:
Breathe: Respiratory Blend: opens the airways and promotes clear    breathing.
Slim & Sassy: Metabolic Blend: boosts the metabolism and keeps your energy up throughout the day. Helps to curb sugar cravings and the tendency to overindulge.
Wild Orange: the sunshine in a bottle! This oil is bright and awakening! Orange is useful for lifting the mood AND supporting our body systems. This oil is a must have on the cranky days, for sure. It can change the whole family's mood in an incredibly short time.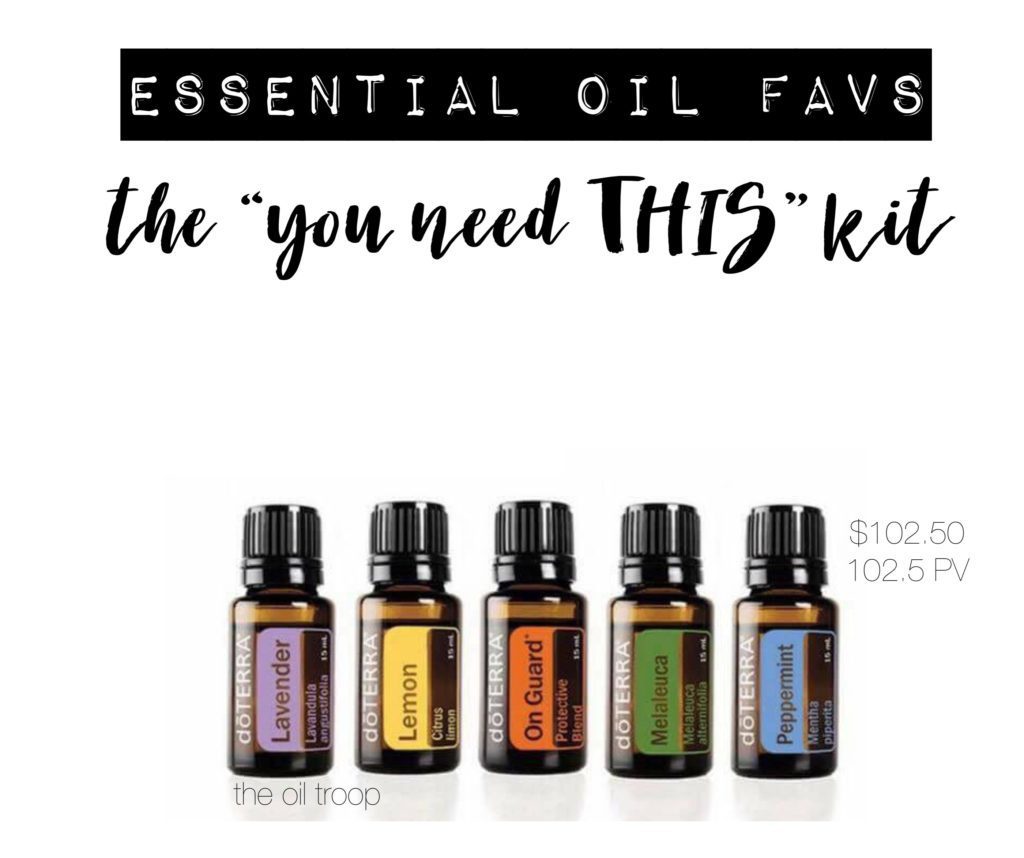 Literally, you need this!
If I was tasked with choosing the top 5 oils that every single household NEEDED, without question or hesitation- it would have been these 5 oils. dōTERRA is truly brilliant and has their finger on the pulse of it's 6 million customers!
Why these oils?
I will attempt to be extremely brief-
Lavender:
Ever touch a hot pan and need immediate relief? Lavender. Ever twist pop or bump into something and feel some discomfort? Lavender. Ever walk outside and see pollen everywhere and then have a physical reaction? Lavender. Ever have your skin itch? Lavender. Ever have a cranky child? Lavender. Ever FEEL LIKE a cranky toddler in an adult body? Lavender. Ever try to go to sleep and feel wide awake? Lavender.
Lemon:
Do you like when your liver functions properly? Yes? Me too. Studies show this awesome oil supports that. Lemon is an incredibly mood lifter, helps with focus and feelings of sadness. Lemon also is a base oil in our TRIEASE or DIY seasonal reaction blend- Combined with Lavender and Peppermint, it supports a healthy airway/breathing situation even when pollen counts are through the roof. It soothes mucous membranes and dry, itchy throats. Lemon is an excellent cleanser- because of its unique cleansing properties, it can degrease a pan or remove goo/sticker residue like a champ.
OnGuard:
Where does one start with this blend?
It boost the immune system. It cleanses and purifies the environment.
It helps you stay healthy throughout those rough seasons when everyone else is dropping like flies. We use it daily. The clove in this blend also helps to create a numbing sensation if that throat tissue gets red and scratchy.
Melaleuca:
This little miracle oil is well known for it's purifying and cleansing abilities. Whether it is soothing the skin/mucous membranes, opening the airways, or purifying surfaces & the air… it is a powerhouse and brings it's full force to the job.
Peppermint:
Often, this is the oil that people are first introduced to when learning about essential oils. It is VERY easy to identify the POTENCY of an essential oil with peppermint. A little goes a LONG way. One drop of peppermint equals the therapeutic benefits of 28 cups of tea, without all the side effects that would come from drinking 28 cups of peppermint tea! Open and clear airways, bright and AWAKE minds, soothed muscles and joints and it is cooling to the body… this oil is a stunner. It is also a key player in that pollen blend mentioned above. There is a common saying that there are over 100+ uses of peppermint. It even keeps spiders, ants and mice away…
Saves $13.75!
Now this, THIS kit is something to write home about.
The BEST thing about this loyalty rewards kit is that it gives you MAJOR tools for the emotional toolbox, without breaking the bank!
Not just that, but these tools are so incredibly straightforward and easy to use!!!! Very little adjustment period, just some good old aromatherapy!
Wild Orange: we spoke of this above- so to recap, it brightens and lifts the mood.
Balance- GROUNDING, great for those of us that tend towards the anxious
Serenity- AMAZING for catching some REST and falling asleep.  (Balance & Serenity mixed together are an amazing rollerball for intense & tough anxiousness)
Peace- Calming and Comforting, this rollerball was an old aromatherapy STAND BY for kids and adults alike. We use it when someone is "feeling all the feelings". Soothing to the nerves.
Petitgrain- everyone tends to call this the "manly lavender"… this is because it has a chemical component profile similar to lavender's soothing and calming components- but it doesn't make you smell like flowers.
Lavender- for those of us that LIKE smelling like flowers, and for those of us that also see a TREMENDOUS benefit when mixing petit grain WITH lavender for a giant stress smackdown effect!
Cedarwood- sleep will be your best friend once you start incorporating this grounding and connecting oil into your nightly routine. A drop or two on your feet and a roller of cedar wood up your spine- you will be drifting off easily.
Cedarwood has a TON of therapeutic benefits to explore, and is featured in MANY rollerball blends. But I have to draw the line somewhere 🙂
Serenity Restful Complex-
These supplements contain tried and cure herbal remedies combined with the genius science of essential oils. Some of the most relied upon herbal ingredients include passionflower, German chamomile, and lemon balm. L-Theanine boosts the brain chemistry that helps you get happy and calm down… and Lavender essential oil completes the mix.
Copaiba- of the MANY benefits- (you can google beta-caryophellene)
Use to support the health of the cardiovascular, immune, digestive and respiratory systems! [this is one of those oils that we use in our house daily as a booster and soother of everything!]
OnGuard Softgels-
We take these the MOMENT that we either know we have been exposed to something or when we start to feel the ick set in.
key ingredients:
Wild Orange Peel: protects the body against seasonal threats
Clove Bud: supports a healthy immune system
Black Pepper Seed: supports healthy circulation
Cinnamon Bark/Leaf: promotes healthy immune function
Eucalyptus Leaf: purifying and cleansing properties
Oregano Leaf: helps maintain a healthy immune system
Rosemary Flower/Leaf: may help support the digestive system
Melissa Leaf: may help support healthy immune system
Breathe: Helps to maintain open airways! Use to help minimize the effects of seasonal and environmental threats.
PB Assist:
One of the things that so many people are unaware of, is that GUT HEALTH is essential to a strong immune system (and a healthy emotional constitution and respiratory function). This probiotic is used to support healthy functioning of the digestive and immune systems by adding a strong layer between you and the environment you take in.
OnGuard Sanitizing Mist:
purifies hands by eliminating 99.9 percent of bacteria and other germs!!!!! on Has an extremely fine, quick drying mist.
Infused with a natural apple extract, the moisturizing formula will not dry out the skin and leaves hands feeling soft and smooth.
Oregano Touch:
Oregano is by far one of my fav oils for supporting the respiratory system and knocking the funk out of the body and home. However, it is a HOT oil! Which means that there can be quite a bit of a learning curve with getting the right dilution… and that can mean that some would rather NOT use it at all than risk not getting the dilution right.
THIS preparation is PRE-DILUTED, meaning that is is safe for those of us with sensitive skin AND children 2 & up!!!!

Use Oregano with confidence!

OnGuard: see above!
Did you know that pollen is just plants guaranteeing their own survival?
The time to stop being mad at Mother Nature is OVER! You too can now begin to enjoy the great outdoors, even is spring [and august bloom].
As a family with all sorts of environmental reactions- we rely HEAVILY on these products!!!!!
Breathe:
create feelings of clear, easy breathing
Lavender:
supports healthy immune response during times of seasonal threats
Melaleuca:
Soothes mucous membranes and cools airways.
Breathe Respiratory Drops:
support overall respiratory health; especially the itchy, scratchy throats.
Breathe Vapor Stick:
You will need about 12 of these. One for the purse, gym bag, living room, office, car, bedroom, bathroom, etc
All jokes aside, this product wow'd me from second ONE. IT IS INCREDIBLY cooling, soothing-both topically and aromatically. It totally replaces any other vapor rub you have ever used. I am often caught applying it to my chest, back, feet, spine and directly to my nostrils. Im obsessed.
PB Assist:
Again, gut health is SO IMPORTANT for our immune system and our respiratory system!!!! This product really supports optimal immune system functionality.
TriEase:
PREPARE YOURSELVES> life changer ahead!
All three of my children and my husband could write a paper on the ways with which this product has changed their outdoor existence!
A perfect and easy to ingest blend of peppermint, lavender and lemon!
I get it, there are a lot of athletes out there- and I support you. One of my daughters is a dancer and I see first hand the toll that dedication to constant physical exertion takes on your body.
But I am going to be real with you for a minute- I am not athlete… yet these products are in my bag on the daily. WHY?
OnGuard:
everywhere I take my kids is GROSS. no jokes. Kids are nasty and they like to share. End of story. I have got to keep up on it somehow and this has been my miracle product. (it also smells good because a lot of the time, places I take my kids smells nasty too)
Peppermint Beadlets:
In the past week, this is a short list of the ways I have used these:
-son got car queasy: popped 2 and felt better in 5 min
-daughter had some kickin breath after her garlic hummus lunch- handled
-Oldest daughter had some environmental reactions and I had forgotten the
triease at home- she took 3 and felt better.
-freshened my breath after finishing daughter garlic hummus
-husband had head tension after a long drive- he took 2 and popped them against the roof of his mouth. It was gone within 5 min.
-son ate too much sugar and needed something quick- took one and it went away
Lemongrass:
This is a fantastic oil for muscles aches! We use it regularly for twisted joints and sore necks. Especially from repetitive movement or just sleeping on it wrong. IT is a master "insect stay away" oil as well, so I love having it on hand when we are out.
Aromatouch:
This is the massage blend, again, great for muscles. However, also great for ear stuffiness (especially when flying), soothing bug nips and other random skin issues. It is also one of my second lines of defense against that nagging, dry cough!
Deep Blue Roll On:
This is great to apply before and after exercise to maximize muscle blood flow and function- I also find it INCREDIBLE to spot treat bumps and hard knocks before it gets to the black and blue stage! (also amazing when joints get overextended from jumping on the trampoline with too many other kids that are too big to be jumping with lots of other kids- ask me how I know)
Correct X:
have you ever gotten cut, scraped, skinned, or touched something too hot to handle? Have you ever thought, "hmmm, I should probably put something on that"? Or maybe you see a blocked pore, bump, or otherwise annoying skin thing that needs something before it turns into "something". Yep- this is your non-toxic, "not going to create a resistance to anything" answer to "ick. I should put something on that".
Mito2Max:
This you use to support healthy aerobic capacity, increase energy, and improve stamina naturally. Because you ARE an ATHLETE mama. Did you READ 1-6????????? This parenting thing is NO joke. You need some extra sumthin… this is it. Your adrenals will thank you!
Last, but CERTAINLY not least, here we are- discussing the one thing that every doubts will work.
Who watches Jeopardy? Are you ready? Lets play.
"I don't need that because my current condition is WAY PAST your hippie stuff Jen"
"What are things everyone says before trying it and saying, "this really works, Jen"?
Yeah, something like that.
Everyone thinks their condition is way too far past the treatments in this kit, then the people that are actually willing to open up their minds just a teeeeensy bit more are always pleasantly surprised.
TRY IT.
From the relaxing and lymphatic support you will find in Aromatouch, to the methyl salicylate in Wintergreen (google can tell you so much about that) this kit packs a punch.
Deep Blue Rub we discussed a bunch already, BUT the deep blue polyphenols are way different! It contains powerful polyphenols to aid occasional aches and pains while supporting joint comfort and function!
Then COPAIBA:
Helps calm, soothe, and support the nervous system with its excellent beta caryophellene content! (and so much more)
So those are our kits!
I hope this gives you some real life examples of WHY it is so amazing that you can order some of these as a kit and snag a little extra discount along the way!