D you have a gratitude practice?
around 3-4 years ago- I started the daily practice of beginning and ending the day with a gratitude mantra and journal entry. It is very very difficult to continue to be in a state of lack, when you are constantly listing out things that you are grateful for.
The hard the day was, the more gratitudes I would force myself to list, until I was filled with the knowledge that life is full and blessings abound. Most days, coffee shows up in my list of gratitudes… because, truly, coffee is a magical bean for which life force flows.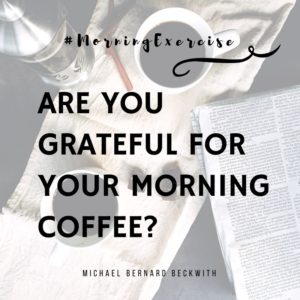 October is a fun month- all the leaves start to turn and the air gets crisp/// the sun shifts and those boiling hot days of seeking out water to seem in become fading memories…
It is also the month that we find ourselves in need of some immune support!
Last night, I cooked up a batch of Elderberry Syrup, and as I was canning it, I sat in complete gratitude for all the tools I have available to support my family during transitions- not just seasonal, but hormonal and emotional too!
So as I cooked up my elderberry syrup, which contains OnGuard essential oil, I had the OnGuard diffusing in one of my favorite diffusers- this is the Amber Glass from Green Air. It looks like a dragon egg, so I make everyone call me Kahleesi when I have it on.
My recipe for elderberry syrup is about as easy as they come:
1 cup dried ORGANIC elderberries (this is one of those times that the organic growing matters so much)
3 cups of water
2 tablespoons freshly grated ginger root (i add more for the grown up batch, less for kiddos)
1 sprig cinnamon bark
½ teaspoon whole cloves
1 cup raw honey (we get ours locally, from a neighbor that sells it in 12 lb jars) ADD AFTER COOLED
4 drops ONGuard essential oil (added AFTER it is removed from heat and the temp has cooled dramatically)
Instructions
Pour water into medium saucepan and add elderberries, ginger, cinnamon and cloves (do not add honey!)
Bring to a low boil, cover and reduce to a simmer for about 45 minutes to an hour until the liquid has reduced by half. Stir this constantly! The worst ever is when you burn a batch of elderberry. Make the time to slow down and enjoy this step.  I notice that when it is about done, the liquid clings to the spoon instead of pouring right off. At that point, remove from heat and let cool to the point that you can safely handle the berries.
Mash the berries thoroughly and then pour it all through a wire mesh strainer into a glass or metal bowl.
Discard the elderberries (or compost them!) and let the liquid cool. When it is cooled enough to safely add the honey- (just a smudge warmer than lukewarm) add 1 cup of honey and stir well.
When honey is well mixed into the elderberry mixture, pour the syrup into a pint sized mason jar- this is when you add the OnGuard essential oil!!!!
Store this jar in the fridge and take twice daily for its immune boosting properties.
Standard dose is ½ tsp to 1 tsp for kids and ½ Tbsp to 1 Tbsp for adults. If you feel like the situation requires more oomph than normal-  take the dose every 2-3 hours instead of once a day until you feel that normal circumstances return!
When I woke up this morning, I was reading up on all the things that this Full Moon was brining- I was having such a lovely morning, and I really could feel that something good was stirring!!!
How amazing does that sound????
Slash Bad Habits and SET FIRE to that which caused us grief???
To me, when I hear or read those words- I think White Fir
White Fir is the oil of generational healing! Specifically in helping us deal with the patterns and traditions passed down from family member to family member- which is OFTEN the source of GRIEF! White Fir really helps us to bring the issues up to our consciousness- so that we can heal. This would be a good blend to have going during prayer or mediation.
Next- I will demolish all obstacles in my path?
Funny thing about that, what do you consider to be obstacles on your path?
In my experience, the main obstacles in MY path- have been my fears. My own emotional blocks to allowing what I want to show up in my life.
For this I would recommend Wintergreen- the oil of surrender. We are not in control here- help isn't just coming- help is here.
Wintergreen gives the soul the strength it needs to let go of negativity and deep emotional distress. We are not doing life on our own- our Higher Power can carry the burdens… we need to get out of the way.
We need creativity and imagination!
Bring in the Citrus Bliss!!!!
Citrus Bliss is the invigorating blend that returns motivation and drive to our bodies. It gives us back that connection to the magic in life so that we can restore the s p a r k of creation!